A Look at YSL's Libre
Saint Laurent and the Libre Campaign
         The iconic French designer house, Saint Laurent, has become increasingly notorious for their androgynous and chic creations.  Their desire to promote liberation and empowerment is clear in their fashion line, season after season.  And yet, the women's perfumes for which they are best-known—namely Black Opium and Mon Paris—are hardly free from the constraints of what a classically feminine fragrance should smell like.  That disparity between the brand's image and their fragrances has arguably been ended with Libre.
        The 2019 release is an oriental fougère, created by Anne Flipo and Carlos Benaim, and modeled in a commercial (if one may so about a fragrance) by British Pop Star Dua Lippa.  In the video, she covers the Rolling Stones song "I'm Free" and is dressed in an elegant Saint Laurent suit.  The entire campaign revolves around the concept of freedom and liberation—Libre is French for free—and so the fact that this fragrance is a lavender fougère, which has traditionally been a category of men's perfumes, and that it is marketed towards women can be much better understood after one understands the brand and its campaign.  Regarding the bottle, this aromatic juice is conserved in a stylish crystal bottle marked by a gold YSL logo and an edgy asymmetrical cap.  Regarding price, the 90 mL (3.4 fl oz) retails for $130 at most department shops.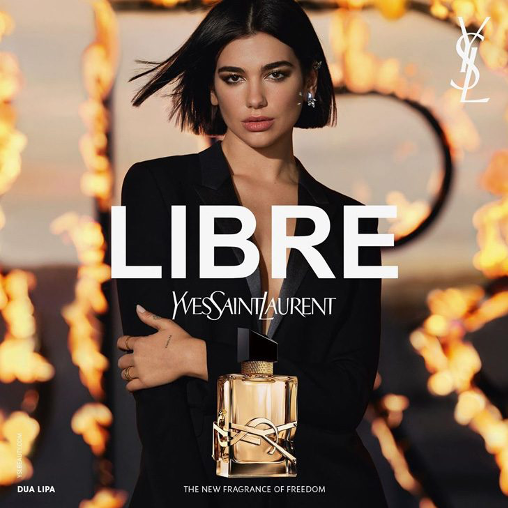 The Scent
        Now on to the fragrance itself.  Libre is a warm floral juice.  The top notes are lavender, mandarin orange, black currant, and petitgrain.  The middle notes are lavender and orange blossom, alongside jasmine.  The fragrance then dries down into Madagascar vanilla, ambergris, musk, and cedar.  The opening of Libre is incredibly bright and fresh, but only in a floral, citrusy, non-aquatic way.  The jasmine, and mandarin orange and orange blossom are most blatant here, and less and less noticeable as the fragrance develops.  The sillage at this point can range from moderate to intense depending on the number of sprays.  As Libre progresses, though, its initial sharpness calms into a soft lavender, vanilla fusion.  The jasmine is still noticeable, but the fragrance has lost the slight coldness from the start and the more it dries down, the warmer and slightly sweeter it becomes.  Once the fragrance has evolved from the opening, however, it becomes quite linear and remains that way till the end.  When it comes to longevity, Libre is quite long-lasting.  On the skin it can last up to five or six hours depending on the number of sprays, but on clothing it can be smelled even after days.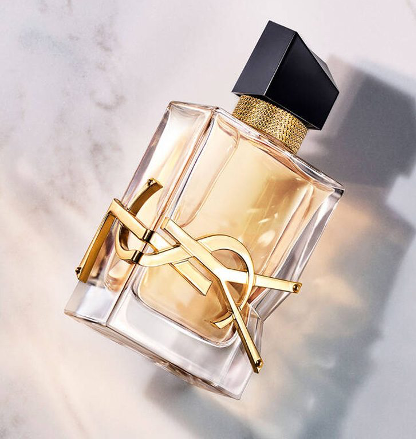 Versatility and Uniqueness
        Libre is without doubt a versatile fragrance.  This does not come as a surprise given that it can be characterized as cold, warm, floral, oriental, fresh, and even (vanilla) sweet.  That being said, Libre probably does work better for some occasions than it does for others, as is the case with most perfumes anyway.  Just like one wouldn't wear Black Opium to a morning class (hopefully), one wouldn't wear Libre on a hot summer day at the beach.  This is a sophisticated, edgy fragrance and not one that is appropriate for more casual events.  For the office, formal events, a day out, lunch/dinner at a restaurant, and even a night out, Libre can be worn without apprehension.  Though not necessarily inoffensive or soft, it isn't loud or limited enough in its uniqueness to bother the average person.  Nevertheless, more than four or five sprays could really overwhelm those in the vicinity, since it doesn't particularly sit close to skin, at least not at first.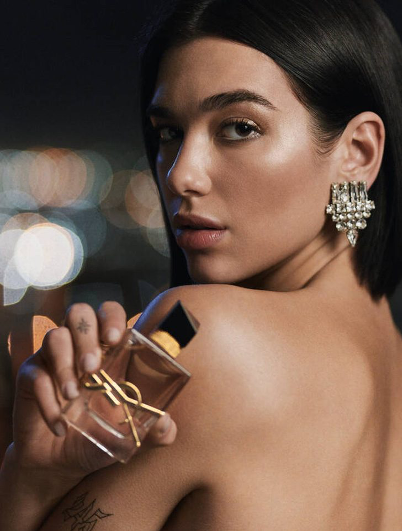 Libre works best in the fall and spring, during daytime, but if it must be worn during the summer, doing so at nighttime would be best.  It does become warm enough, though, that it could also be enjoyed in the winter.  Libre could easily be a signature scent, and also one that would fit women of almost any age.  Some claim that it is unisex, which is not completely unjustified, but many men may find it a tad too feminine and warm floral-like for their taste.  Regardless, Libre will allow its wearer to feel edgy yet sophisticated, elegant yet sensual, and very confident and empowered, much like the its bottle inspires.
       Now, is it the most exceptional or spectacular scent of our time—or of even the last few years?  By no means.  Libre is still very "designer" and not completely unlike other fragrances in the market (many point out its resemblance to Mugler's Alien and Guerlain's Mon Guerlain, and even Chanel's Coco Mademoiselle).  It is, simply, a chic feminine fragrance—a significant deviation from the ultra-sweet Black Opium or fruity Mon Paris—but still markedly "feminine" without shouting that it is a woman's perfume.  That, and not necessarily its juice, is precisely what makes this perfume unique.
By Maricel Troitiño
(all photos belong to designscene.net)
---
Subscribe
If you want to be always updated about my blog, SUBSCRIBE!
---
---