What is Adobe Flash Player
According to Wikipedia:
Adobe Flash Player is computer software for using content created on the Adobe Flash platform, including viewing multimedia contents, executing rich Internet applications, and streaming audio and video. Flash Player can run from a web browser as a browser plug-in or on supported mobile devices.
Caution! Flash is currently not recommended to have it installed in your computer because of all security risks that it brings. However if you still need it, proceed with the steps below.
Install Flash on mac
Using Safari, go to Adobe's download page and follow the steps:
Select your Operating System:
Mac OS X 10.10 - 10.14 (versions can change)
Choose the option for Safari/Firefox:
FP 32 Mac for Safari and Firefox - NPAPI
Click Download
That's it you have successfully installed Adobe Flash Payer in Mac.
Uninstall Flash on macOS
I recommend a program to uninstall the apps, it's called AppCleaner since it erases every trace of the program that a regular uninstall doesn't erase.
Drag and drop the Flash app to AppCleaner
Select all folders
Click Uninstall
Settings for Flash on macOS
Due to security risks of running flash, it is recommended to have some settings modified. Go to your normal Settings and look at the buttom for 'Flash', then:
Under storage, activate:
Ask me before allowing new sites to save information on this computer
Under Camera and Mic, activate:
Ask me ...
Under Playback, activate:
Ask me ...
Under Updates, activate:
Allow Adobe to install Updates
Run flash on Firefox
To run Flash on Firefox in mac, after you have installed Flash, close all instances of Firefox so when it starts again, it picks the changes. Then go to a site that asks for flash and you'll see that it asks you permission to run it, just click on the box of the page asking you and flash will run.
Here is an official page for you to test. You should be able to see now an icon like this: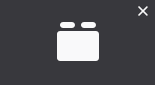 Click it and you'll activate flash.
If you have found this article useful please share it.
ArturoFM