A forum for hackers has an offer to sell login details for Microsoft 365 / Office accounts which is high ranks executive accounts
Best Deal on Microsoft Office: https://amzn.to/3md2idr
ZDnet has reported a claim that a forum for hackers has an offer to sell login details for Microsoft 365 / Office accounts for what they commonly call C-level staff which is high ranks executive accounts. Here is the list of those ranks:
CEO – chief executive officer
COO – chief operating officer
CFO – chief financial officer or chief financial controller
CMO – chief marketing officer
CTOs – chief technology officer
President
Vice president
Executive Assistant
Finance Manager
Accountant
Director
Finance Director
Financial Controller
Accounts Payables
The prices go as high as $1500 and as low as $100, it just depends on how spicy you want the rank of the senior executive to be.
All the login information has been corroborated and they look very real, as of right now there is no eveidence of being fake logins.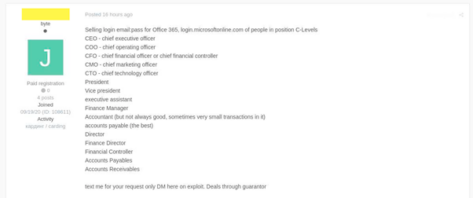 The victimis of the logins and password leaks have companies in many places and they own firms such as retailers, business management and software firms.
Next Step
If you are one of the affected ones we'll cover below how to secure your account, please do so in order to protect it.
How to secure Microsoft 365 account from hackers
Not a single day passes that we hear news about hackers invading our privacy, but fortunatly, the steps below can stop them or slow them down by aproximatly 99%
Clean the cookies on your browser and make sure your computer isn't acting strange. This will check that the hacker is not in your actual computer.
Change your passwords, if you can change them all. Use a different one from the rest of the ones that you have. To keep them all different I recommend using Bitwarden which is a free and most secure password manager.
Use 2 Factor Authentication. Please don't use your phone number as it can be easily bypassed, actually if you can turn off the phone number option, use instead an app such as Authy to handle your codes.
Perhaphs you've heard of this already but Microsoft 365 admins can enforce Two Factor Authentication on their staff and management accounts and if this is the case, make sure you follow the list above to stay as secure as possible.
The key component in the security above is the 2 Factor Authentication, even if the hackers have your password, they won't be able to get into your account. The problem is if you have more than one account with that password, then they can easily search and find it. That's why I recommended Bitwarden.